Little did I know, when I arrived at the Basilique Cathédrale Notre-Dame de Chartres that I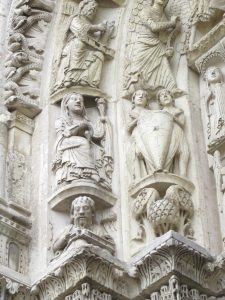 would be walking into the midst of a somewhat controversial restoration project. I had read about Chartres and its unique status as one of the most cohesive examples of Gothic architecture, due to its relatively short (25 year) construction period. Short of the odd replaced statue, there was no sign of what was going on inside as we approached the famous west façade and studied the intricate carvings. But as we entered the cathedral, I was quite surprised to see the very first bay of the space looking like it had just been whitewashed last week. I saw the scaffolding halfway down the main aisle but I assumed that it was for typical restoration work. As I spent more time looking around, I saw what was really going on – a restoration of the cathedral to what it supposedly looked like many years before.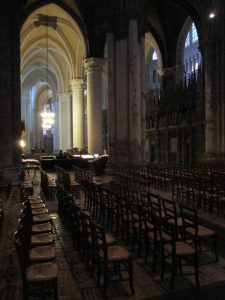 It was a bit disconcerting to move from restored to unrestored areas of the cathedral. Based on what I read of the restoration work (and you can see in this video), much of the original stone is being recoated and repainted. It seems that it is for no other reason than aesthetic and, as mentioned in this article in The Spectator by Alisdair Palmer, it is questionable as to whether it looks better with the restored look. Personally, I appreciate the patina of an 800-year-old building but maybe that is just because I live in a country where there are no 800-year-old buildings. The interior was filled with light, even though the day was overcast. I assumed that it was because of the abundance of glass and not because of brighter walls. Since the restoration is only partially complete, I think the former might be true, but I am not sure.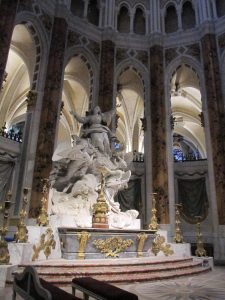 Adding to the disjointed feeling of the interior, the restoration architects have chosen to restore different parts of the building to different periods. According to this document by the Ministère Culture Communication, the choir area has been restored to to how it  looked in the 18th century while the remainder of the cathedral interior is being restored to how it looked in the 13th century, when it was first built. This is not your typical restoration strategy and, personally speaking, I think it takes away from the simplicity and harmony of the space.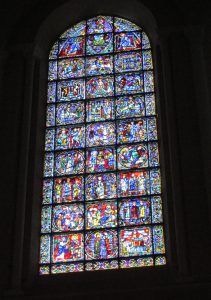 I should mention that, along with the controversial "restoration" of the walls and ceilings, restoration of the stained glass windows is also being carried out. Part of this restoration effort is the removal of protective glazing that was installed in the early eighties that robbed the windows of much of the light they were meant to receive. The results of this work are nothing short of breathtaking. The richness and beauty of these windows, even on an overcast day, are worth the visit alone. One could spend an entire day in Chartres, just "reading" the windows but, alas, a visit to Notre Dame de Paris was scheduled for later that day. (If you can read French or just want to see almost all the windows up close, you can do so here.)
But before jumping back on the train to Paris, I just had to take a walk up to the top of this beautiful cathedral. The spiral stone stair up provides a resting place or two on the way up and the ascent is certainly worth the effort. By the time I reached the top, the sun had started to come out and I walked around the entire perimeter of the north tower of the cathedral for a panoramic view of the City of Chartres. It was also a great opportunity to get up close and personal with a few saints and gargoyles. As I was the only one on the tower, I took my time to walk round and round the tower, observing the massive bells inside as well as the wonderful carvings beside, above and below me, thinking that it took me longer to get to this cathedral than it took them to build it – an amazing feat for this size structure built in the early 13th century! This was not to be the case at Notre Dame de Paris, the next stop in my tour…