Did you know that Victor Hugo had a significant role in the life of Notre-Dame de Paris (as the cathedral is known in French)?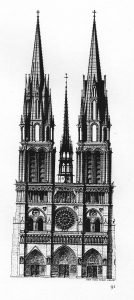 Completed in 1345, after 182 years of construction, Notre-Dame de Paris was in a sad state of disrepair in 1831 when Hugo's novel by the same name (known in English as The Hunchback of Notre-Dame) was published. The publication launched a propaganda campaign that culminated 14 years later in an extensive restoration supervised by architects Jean-Baptiste-Antoine Lassus and Eugène Viollet-le-Duc. Prior to that restoration, little had been done to repair the desecration wrought forty years earlier during the radical phase of the French Revolution, when much of its religious imagery was damaged or destroyed. Viollet-le-Duc's restoration philosophy (which seems to have been followed for the recent restoration at Chartres) was "To restore an edifice is not to maintain it, repair it or remake it, it is to re-establish it in a complete state that may never have existed at a given moment." (The drawing to the right, by Viollet-le-Duc, shows the facade as it would have looked had the original builders completed the spires as originally designed.)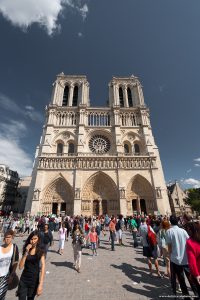 Today, after a second extensive restoration starting in 1990, Notre-Dame de Paris is visited by 13,000,000 people a year and as many as 50,000 in a single day. So I guess it was probably a good thing that I got there late in the day on a cool, rainy Monday afternoon in the end of October. I didn't have to wait in line for more than ten minutes or so to get in.
Notre-Dame's website refers to all these visitors as visitors and pilgrims. I guess I would say that I was a pilgrim of sorts. I have had etchings, paintings and photos of Notre-Dame de Paris in my office since before I started my business. As one of the most well-known church buildings in the world, it served as an inspiration to me in my work with churches. I knew that, one day, I would have to go to Paris to "pay homage" to this iconic structure.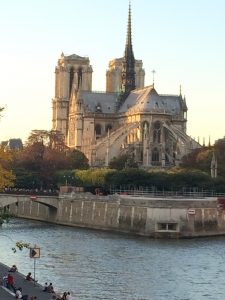 My first glimpse of Notre-Dame de Paris was on our first evening in Paris. My wife and I had checked into our hotel and had walked down the street to cross the bridge to Île Saint-Louis, where we had dinner reservations. As we started to cross the bridge, I immediately saw the cathedral on my left, its yellow hues intensified by the setting sun and the Seine River providing the perfect foreground. It is appropriate that I should see this monument from the back first, as it on that side where the flying buttresses that helped make Notre Dame so famous are visible. I had hoped to go to evening Mass there but we were so tired out by our trip we decided to put off Mass until Sunday morning. I looked forward to going there sometime in the next few days.
I didn't return to Notre Dame until 2 days later, after returning from our visit to Chartres. We arrived too late to even be allowed to rent an audio guide so I had to rely on Rick Steves' guide to Notre Dame, which I had downloaded to my iPhone just in case. Rick describes the space as "…a huge, dark earthly cavern lit with an unearthly light." When it's 5:00 PM on an overcast October day, there is not much light at all in the side aisles where tourists are allowed – earthly or otherwise – and this magnificent structure seems like a dark, earthly cavern filled with a constant stream of shuffling tourists, stopping only to take a photo or perhaps read one of the display boards set up around the cathedral. Even when I broke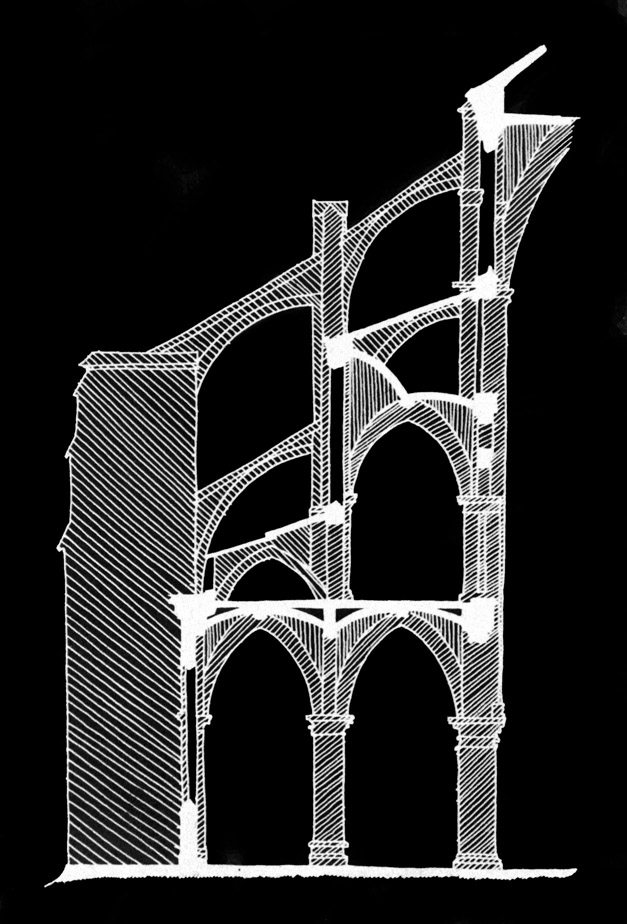 through the barricade to sit inside the main body of the church, I have to say that I was somewhat disappointed. I believe that the disappointment has something to do with the design of the cathedral as a double side aisle plan. As you can see from this partial cross section, the double aisle construction results in only the uppermost windows being in the nave of the church. The mid-level windows are set back into the upper gallery and the lowest level windows are two aisles away from the nave. All of this makes it very difficult for natural light to reach the nave. The one exception to this is at the transept, where full height walls allow for large windows that would bring significant light into the crossing on a sunny day. As the altar is set just at the far edge of the transept, it is only when in the area directly in front of the altar that one can fully experience the heavenly light that was so important to Gothic architects.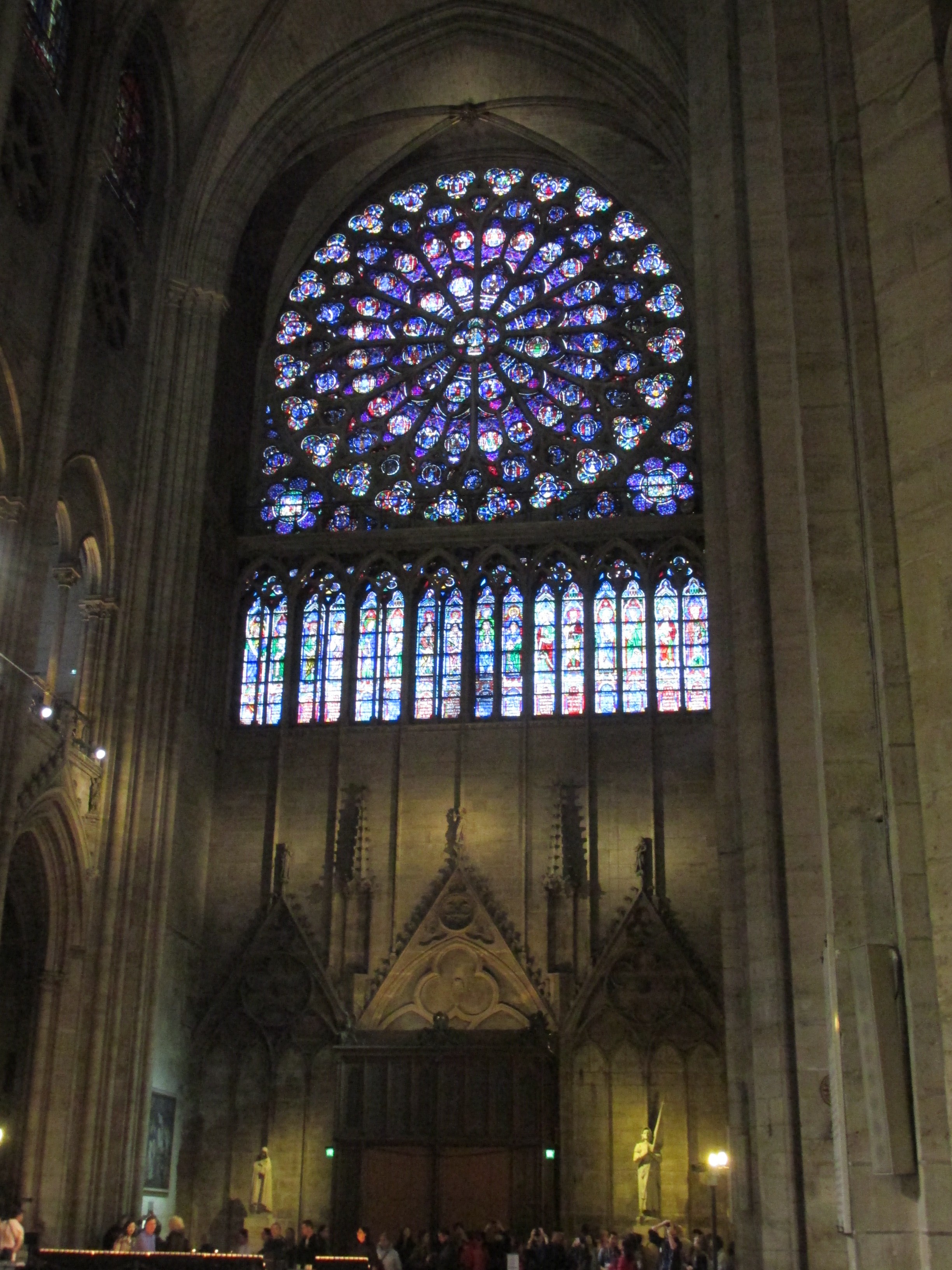 Of course, Notre-Dame de Paris is widely considered to be one of the finest examples of French Gothic architecture in the world and I am not disputing that fact. I am simply saying that, for this pilgrim, I wish I had a better encounter with the architecture, perhaps something more up close and personal, like this.
Upon exiting the cathedral, I did have a little time in the sun to admire the west facade, which has been so magnificently restored. It most certainly is a masterpiece of Gothic architecture and a wonder to behold. I even got to hear the famous bells of Notre Dame, which was a wonderful way to conclude my visit.
Perhaps the next time I am in Paris, I will try to get there when they open at 8:00 am and attend Mass in the choir, to see if I have a different experience of the space. If I do, I will be sure to blog about it!