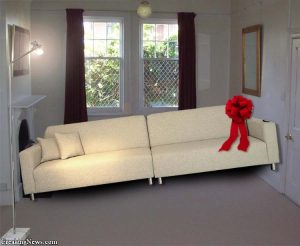 Have you ever been offered a beautiful piece of furniture but were afraid that it wouldn't fit in your house? Perhaps you worried about it being too big or maybe you were afraid that it might clash with your other furnishings. How did you decide what to do?
The folks at Our Saviour's Lutheran Church were faced with just that issue when they were offered a gift of beautiful, well-maintained pipe organ that any music-loving Lutheran congregation would love to have. Although it was the right scale of an instrument acoustically relative to the size of the worship space, it was still rather large compared to the other liturgical furnishings in the space. People were understandably concerned that it might overwhelm the liturgical furnishings and draw attention away from them. Their biggest concern was that it would interfere with the the way they worship, which was, of course, of paramount importance. So they asked me to help them decide what to do.
I attended a worship service at this beautiful, small, New England church last Sunday on a bright, sunny, snow-covered morning in Connecticut. Afterwards, I met with members of the church and they shared their concerns as well as their excitement about what this gift could add to their music program. You can read about my recommendations in this Assessment Report. Feel free to add your comments to this post. I hope to be able to post pictures of the installed instrument in the future – should the church decide to accept this gift. Stay tuned!