Way back in time, while I was studying architecture in college, the famous (and somewhat notorious) American architect Philip Johnson was busy designing a new $18 million church for the Garden Grove Community Church in Orange County, California. This congregation had a history of hiring famous architects to design their worship facilities, having hired Richard Neutra to design their previous sanctuary in 1961. Prior to that, they had held services at the Orange Drive-In Theater.
Given that history, it was not surprising the Rev. Robert H. Schuller's newest church was designed to allow for drive-in worship. Two enormous walls of glass were designed to swing open so that, in addition to the 3,000 seats inside the church, those who prefered not to go into the church itself could simply sit in their cars and listen to Rev. Schuller's motivational sermons. Completed in September 1980, it was soon published in all the leading architectural journals and I marveled at the all-glass design of this brand new church with the fifth largest pipe organ in the world.
Who would have guessed that 32 years later, the Roman Catholic Diocese of Orange would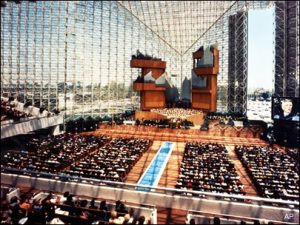 purchase the Crystal Cathedral and its adjacent campus from the now-bankrupt church for $53.6 million with plans to make it the new cathedral for the diocese? I chatted with Joe Novoa, Director of Construction for the Diocese of Orange, at the CCFM Conference in Seattle last Spring about the diocese's latest real estate acquistion. We talked about the challenges of owning this new building and making it work for Catholic worship. He told me that the seating and sightlines were quite good but there were design elements that just didn't work for a Catholic church. And of course, there is the issue of the walls of glass creating competition for the liturgical focus as well. He shared some preliminary sketches with me as well, which were quite interesting to see.
During the summer, the Catholic News Agency wrote about the renovation of the building, which has now been renamed Christ Cathedral. The local bishop called it "a thorough Christological transformation." Clearly, that is what is required to convert this building from a preaching focused church to a Eucharist-focused worship space. Though I never had the opportunity to visit the Crystal Cathedral in person, I have seen enough photos, have read enough about it and have seen it on TV during The Hour of Power that I feel I know it pretty well. I hope I will have the opportunity to visit Christ Cathedral once the renovation has been completed to see if the transformation was as thorough as described. Although the cathedral is already been used as a worship site, with 11 Masses each weekend, according to the National Catholic Register, the renovation of the cathedral interior could take several years to complete. If you happen to get there before I do, let me know what you think!