The thought of stepping onto a plane can make even the bravest reflect a little and offer up a prayer. The search for solace in an airport, though, can be daunting because of the crowds, commotion and unrelenting announcements over loudspeakers.
"I cannot really forget the first time I had to pray in an airport with my family," said Djafer Sebkhaoui, a Muslim from Troy. "We were looking for a corner."
At Albany International Airport, finding a corner to pray will no longer be necessary because the ribbon was cut Sunday on the expanded facility's Interfaith Prayer Room, a soothing escape from the airport's hustle and bustle that is nestled on Concourse C.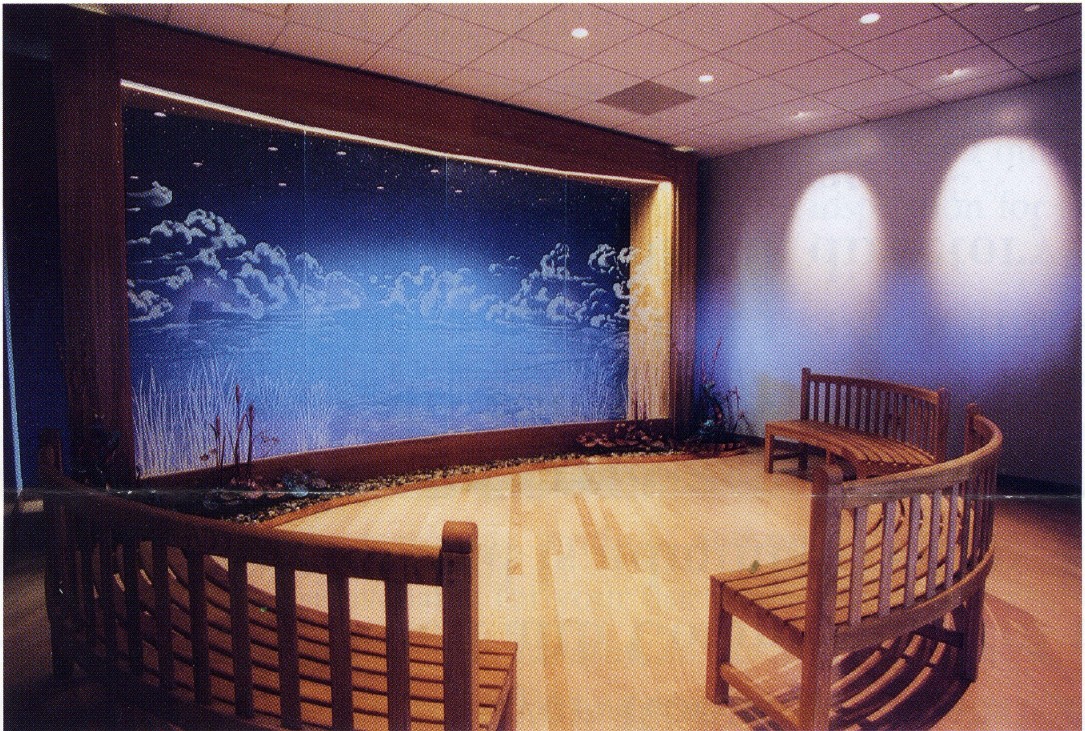 James Hundt, Architect helped design the new Meditation Room at the Albany International Airport.
The need for the room was apparent during Sunday's ceremony, as speakers from various denominations dodged flight-arrival announcements and revving propellers while delivering their praise of the cozy meditation room.
Local religious leaders, including Sebkhaoui, Bishop Howard Hubbard and Rabbi Donald Cashman said the prayer room is another part of the regional plan to elevate a county airstrip to its new status as an international airport. The room set aside for travelers and airport employees makes Albany County's rebuilt, $158 million facility one of only about 30 airports nationwide to offer such sanctuaries.
It makes sense, religious leaders said, considering that a half-billion or so people criss-cross U.S. skies about 30,000 times a day.
Behind the door of Albany International Airport room C-213, which is just down the hallway from the concourse security checkpoint, travelers are greeted by small water fountains that trickle over copper flowers and lily pads, an etched-glass panel of stars, clouds, mountains and wetlands and three wooden benches under soft lights on a hardwood floor. In place of an altar, cross or ark is storage for prayer rugs, talith, yarmulkes and rosary beads. The Talmud, Koran, New and Old Testaments are also available.
For Muslims such as Mubarak Zuberi of Colonie, who has traveled the world and seen dozens of airports, the room is a welcome relief to praying at unused gates or remote airport hallways. Their faith requires they pray at specific times five times a day, facing east to Makkah in Saudi Arabia, which is the birthplace of their prophet.
"Sometimes you feel like you are offering (prayer) and the people are staring at you," Zuberi said. "It looks a little embarrassing but sometimes people are wise. If the room is there, it will be a great thing, a tremendous idea, and I must appreciate it and everybody will."
The room is also there for people who simply need a place to reflect — a place to escape and collect their thoughts before flying to visit a dying relative or attend the funeral of a loved one, religious leaders said.
Albany's relatively small meditation room won't be as elaborate as those at larger metropolitan airports, such as Dallas-Fort Worth's, where services at three chapels are announced along with the flights.
Rev. Dr. Robert Lamar, a member of the room's planning committee, said an interfaith committee will continue to oversee the room in conjunction with airport officials.
BRENDAN LYONS
Times Union Staff writer